Bio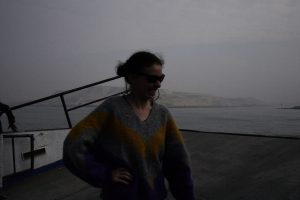 I am a Russian-Egyptian journalist based between London and Moscow. I specialise in reportage, longform, mostly about the edges of mankind. For the past 20 years, I was living and reporting from Egypt and when it was time to leave, during lockdown I put it all into my most ambitious piece yet Farewell my Republic. I have a particular interest in clan-mentality, best seen in Dispatches from the Generals Front and in my quest with Men of Faith. Often my work deals with boundaries, accepting or breaking them, like in The Ghost Workers of Israel, The Supersonic Generals, or The City as a Playground.
Raised in two cultures, I looked for the Soviet-Egyptian legacy and found the haunting Egyptian state ballet and state circus were, like me, products of that alliance and its doom. I returned to the state ballet troupe and recorded interviews and backstage sounds turning Mister President's Swans into a radio reportage (Sputniknews, UK). Sometimes I take a conceptual approach like in the Comrades and I I talk about death and curses, blending reportage with the personal. My stint Wahabi schooling in 90s Moscow served me well when I followed the Muslim Brothers' choir after the 2011 revolution as the organisation won Egypt's first civil elections. Not for long, the army retook control, and I investigated militarised patriotism, which out-shadowed post-revolutionary civilian movements. A Nation Reinvented looks into the army's power-sources and why the civilians failed. Idolisation of the armymen was my last long-term project in Egypt. I left Egypt for London, mainly due to the political situation, and now I am working on projects from here.
My reportages have been published in Le Monde Diplomatique (France), Orient XXI (France), Granta (UK and Portugal), Reportagen (Swiss), World Policy Journal (US) and Mada Masr who keeps up the good fight against crackdowns in Cairo. I won Anna Lindh Journalism award (2012) for my Muslim Brotherhood choir (Le Monde), and Ibdaa Journalism award (2008) for my story on Cairo's deaf community (Egypt Today). My articles were translated into French, German, Spanish, Portuguese, Romanian, Arabic, Kurdish and Norwegian. Mister President's Circus was made into photo-text-performance exhibitions at Cairo's Townhouse Gallery and London's Shubbak Arab Art Festival in 2013. If I am not writing, I give workshops in immersive journalism. I gave a workshop at Jenin's Freedom Theatre teaching young Palestinians how to put their lives (and traumas) under occupation into writing and presented on stage at the theatre (Palestine 2012). I also did two journalism workshops for aspiring journalists in Mansura and underground LGBT activists dodging state hunts in Cairo 2013, both in cooperation with The Czech Association for International Affairs (AMO). 
Calendar
December 2023
M
T
W
T
F
S
S
1
2
3
4
5
6
7
8
9
10
11
12
13
14
15
16
17
18
19
20
21
22
23
24
25
26
27
28
29
30
31