Writer Ala'a Aswany is for & editor Abdallah Kamal is against. An icon of feminism Nawal Saadawy & new culture minister Emad Abou Ghazi. Dreaming young revolutionaries & a flamboyant circus director.Those who they call evil & good in one article. I asked one question 'what's next', they talked. Four days, nine interviews, a frantic search for contacts. I'm glad to have met all these people. Now I'm waiting for the interesting part of the revolution – the aftermath. Until then, where's my cocktail-party jacket? Continue reading →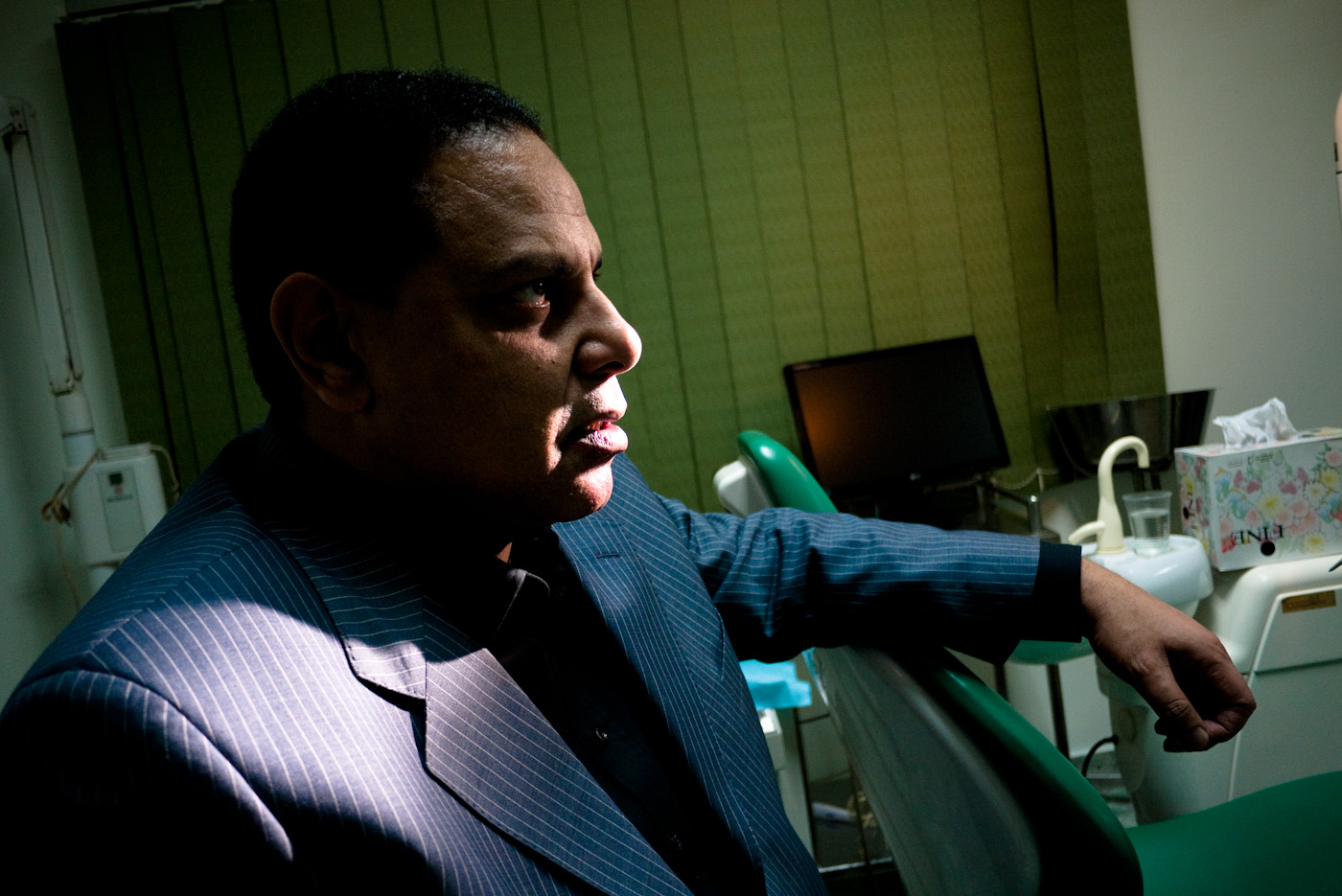 "84million people are now living a wonderful love story"
Dr. Ala'a Aswany is a best-selling novelist, columnist, a founding member of the political party Kefaya, and a dentist by day. Born in 1957, the son of lawyer and a writer, he studied dentistry in Egypt and earned his Masters degree from Chicago, where he spent 17 years of his life. His second novel The Yacoubian Building, a savage indictment of modern Egyptian society, catapulted him to fame. Dr. Aswany also writes on literature, politics and social issues for Shorouk. He is the first Egyptian author to be awarded the achievement award from Chicago University and the Bruno Kreisky Prize. Dr. Aswany says he has no political ambitions.
"The revolution in itself is a human achievement. We overcame the biggest barrier which is Mr. Mubarak, the dictator. We are waiting now for the political consequences of the revolution. We have a lot to do, we have remnants of the dictatorship everywhere. We are still working to get to the transitional period to democracy. This current government, even though the army accepted it on a temporary basis, it's not acceptable by Egyptians since it was originally appointed by Mr. Mubarak. These ministers belong to the dictatorship and I don't expect them to push Egypt towards democracy.
The decision [investigating ministers finances] was a game by Mr. Mubarak, a tactic to absorb the revolution. Mr. Mubarak was never serious about bringing these people to justice, as half of them are business partners of his son. But now Mr. Mubarak is gone, the investigation will be more serious, however it will never achieve anything unless the current government goes away. They will put pressure on the investigations and they will do all they can to save themselves or their partners.
Politically we trust the army and we must give them time. The army is playing the role of maintaining security inside and outside the country. They could appoint a temporary cabinet run by technocrats for six months or a year. Technocrats who are widely accepted by Egyptians, with no relation to the ex-regime, and by the laws of the transition period should not run for the coming elections. We are waiting for the right steps to be taken, and if not then we know the way.
The Egyptian people are making history. This is the opportunity we have been working for for years and we are not going to miss it. You don't make a revolution everyday, and we must be very careful to use this opportunity to build a democracy in our country.
Six months is too short, because we need a new constitution. The president under the current constitution has unbelievable authority, this constitution should be not reformed but thrown away. A body should be elected to write the new constitution. We are not in a hurry, we are building our country, it's OK if it takes one or two years.
Egypt should have freedom of information. The Ministry of Information is one of the remnants of the dictatorship, during the revolution it turned into a body of lies. There is no need for this ministry in a democratic country. What is going to change is the formula of governmental newspapers, in many cases they were against the public interest. We need newspapers owned by individuals where the state has no control over them.
The [former] minister of culture, Farouk Hosni, didn't care about culture as much as he cared about buying out artists and writers, to stop them criticizing the dictatorship. That is what happened for 23 years. I believe that the coming regime will have a minister of culture who would really care about Egyptian culture rather than controlling it.
I believe that any elected government in Egypt will respect the peace treaty with Israel.
We see now the end of the era of post-independence dictatorship in the Arab world. During the 1950s and 1960′s, countries gained independence and then they began to suffer from dictatorship. Now I don't think that these regimes are going to survive.
The revolution is like a love story, I believe 84million people are now living a wonderful love story. People are cleaning the streets because they believe again it's not the country of Mubarak or the regime, this is our country.
---
"Society is waking up from the oppression of the past 30 years"
Mahmoud Al-Wardani, born in Cairo in 1950, is a novelist and cultural journalist. He published his first short story at the age of 18, and his first collection of short stories "Walking in the garden at night time" in 1984. He is the author of fifteen fiction and non-fiction books, six novels, three collections of short stories, besides his work on social history. He describes his writing as modern abstract. He was awarded the Sawiris Foundation Prize in Egyptian Literature in 2009. Imprisoned for student activism in the 1970s, Al-Wardani was also involved with transporting the bodies of soldiers killed during the 1973 war with Israel. He took part in all 18 tumultuous days of the revolution with his three daughters.
"The most important thing is that the revolution actually happened in Egypt. This revolution is a unique historical moment, people did it without any leadership and overthrew the regime. I am happy for once in my life, I'm 61 years old and I was never happy like this, and I want this revolution to continue. Egypt will be rejuvenated as youth is the driving force behind the revolution. Youth will take their rightful place in leading this country.
The old society that was based on repression, restricting freedom of expression, in the fierce grip of state security investigators, is falling apart. The regime is falling apart and the new one is forming. It is impossible to will turn back. We need a change in everything now, the press, television, culture. I believe that the blood of martyrs wasn't spilled for nothing.
The intellectuals should grasp their freedom now. They belong to the Union of Writers, a sick entity, they should restart this Union and transform it into a platform to defend writers' rights, freedom of expression, and the rights of all the different political and intellectual streams like communism or leftism or rightism or liberalism, and so on.
Society is waking up from the oppression of the past 30 years. When the police disappeared, it was people who organized themselves and protected their homes. This experience won't vanish. People became aware of public matters, it is important now, everyone is responsible for their country and they can influence it. The core change has happened.
---
"In this moment all possibilities are open"
Emad Abou Ghazi, current new Culture Minister, has been general secretary of the Higher Council of Culture since 2009. Born in 1955, he read history at Cairo University and received a masters degree in medieval documents. Since 1983 he has been an assistant professor at Cairo University. From 1999 to 2009 Abou Ghazi was a head of cultural committees in the Council. He authored several studies on Egyptian history. He has a number of essays and research on the Arab-Israeli struggle and cultural planning. In the early seventies he participated in the student movement during the war with Israel.

"We are in the moment of transformation, and in this moment all possibilities are open. I hope that Egypt will move to a democratic society and to a true civil state, and we turn into a parliamentary republic where the flow of authority will be in a democratic and peaceful form. I am not sure if that will happen or not, but I hope so.
On the political level, the new constitution must allow the formation of different parties and be open to anyone, providing they don't have paramilitary wings. Give freedom to the press and the media so the establishment of newspaper and TV channels is available to everyone. There should be a right to create non-governmental organizations without obstacles. Also, the penal statute has articles in force since the British occupation, and those are articles restricting opinion, thinking and expression.
On the cultural level, there is cultural legislation that should be amended, for instance the "control of works of art act", so the function of censorship is changed into a system with two main missions – the protection of intellectual property, and setting the age limit for viewing literature. In a sense the work is not banned but age-restricted.
The last point in cultural legislation is canceling the censorship of foreign publications. In the Egyptian legal system there is no censorship over Egyptian publications, but if a foreign publication comes into the country it should be censored by the Ministry of Information. This situation should be scrapped. We face this problem annually during the international book fare. In the matter of offensive material, that should be judged by a judicial body.
I hope we are moving in the right direction – that depends only on us.
---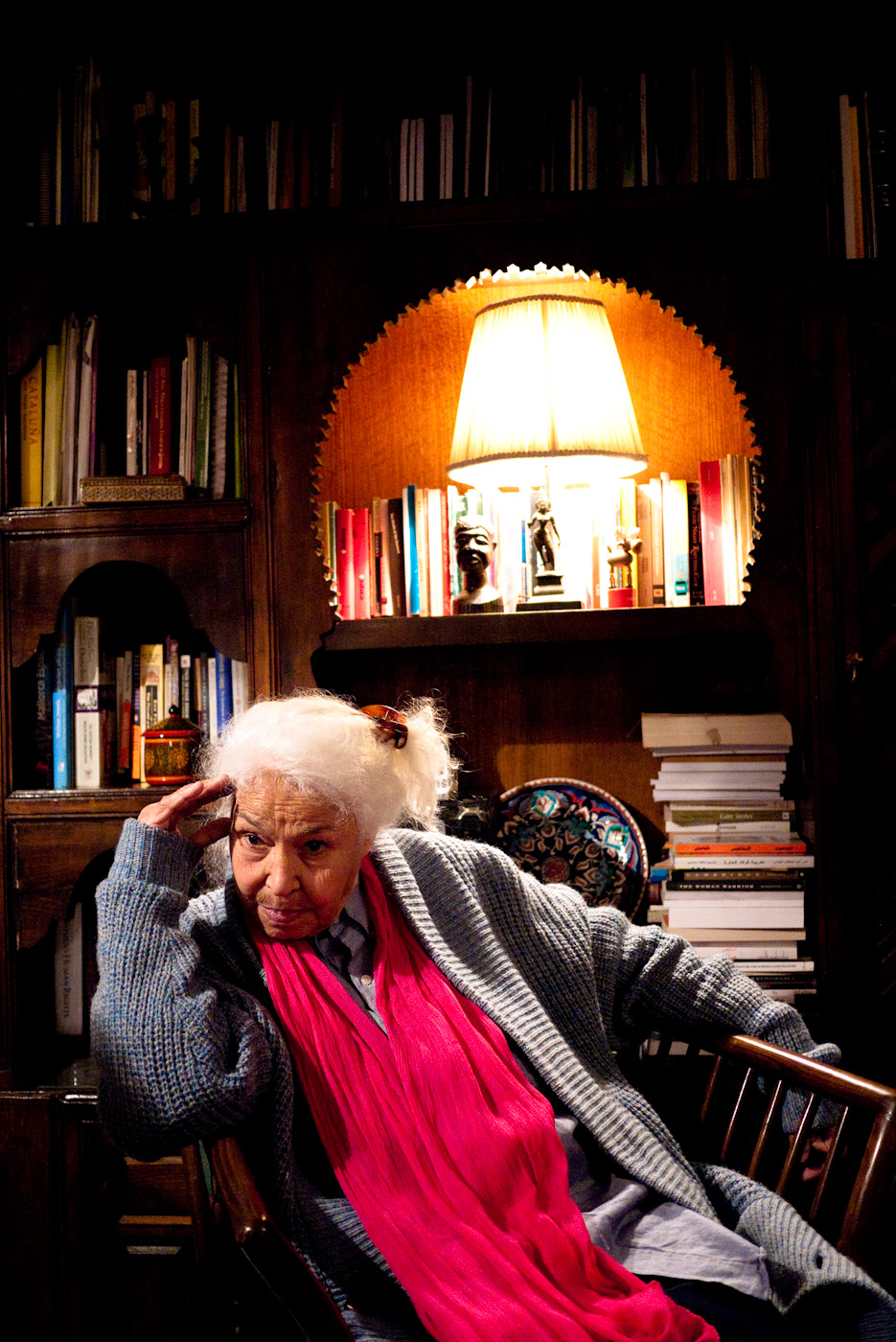 "Our dreams should be big!"
Nawal El-Saadawi, 79, is an activist, writer, lecturer, doctor and psychiatrist. An inspiration for the feminist movement, she wrote more than 40 books of fiction and non-fiction on the subject of women in Islam. She is against female and male circumcision in Egypt. Her radical views and writing cost her her position at Nasser's Ministry of Health, her freedom during the Sadat regime, and exile to the US during Mubarak's. In 1996, Dr. El-Saadawi moved back to Egypt. She symbolically ran for the 2005 presidential elections, but stepped down due to the stringent requirements for first-time candidates. She took part in the Tahrir square sit-in, and even hitched a motor-bike ride home when looters scared off all the taxis. She saw Egypt change from colony to independence, to military rule, to democratic hope, but she is still young at heart.

I met many educated and revolutionary women in Tahrir Square who could run for the presidency. This is a revolution of young mature educated men and women of Egypt, they deserve to be president of Egypt, and not George Ishaq, Ayman Nour, Amr Mousa, Mohamed Baradei, Ahmed Zuweil or any of those people who have ties with the Mubarak regime.

The revolution is political, economic, cultural and social. We changed the patriarchal class system, we changed culture, and even morality. This revolution is an inspiration. We still have lots of work ahead, especially in women's issues. We are on the way to a real democracy but there is the possibility of abortion. This Egyptian constitutional review committee that is headed by Tarek El Bishry should be changed because it doesn't include young people, neither women nor other professionals besides lawyers. The constitution is a social contract and not only a political one. The whole constitution should be changed socially and politically, not just some provisions, to have a secular civil constitution. It's in your [young people's] hands. We need to educate people about secularism.

We are trying now to re-establish the Egyptian Union of Women to have political, economic and social power, so we can protect our rights inside the revolution. We know from history how women's rights were ignored even after revolutionary transitions.
It [woman's role in politics] depends on us. We achieved the revolution through unity – unity is power. If the revolution was not united, it would have failed. And so it goes for women, we should establish this union and empower it, we should break taboos.
Our dreams should be big.
---
"The time when we used to sit at home and wait is gone"
Norhan Yahya is a 19 year old student reading business at a private university. She took part in protests in Alexandria starting from the 28th of January. As with many other young people inspired by the 2011 revolution, she joined the movement to encourage public responsibility towards the new Egypt. Every day she sweeps and paints the bridge leading to Tahrir Square.
"I went to the protests because I wanted change, when you see others looking for that change you don't just sit and watch, you join in. The time when we used to sit at home and wait is gone. If you want to achieve something, you should go and do it.
People lacked tidiness and organization, if that's there everything will work out. Now we feel things are different. Before, we didn't see people getting together in the streets to collect garbage. The idea – tidiness – was there, but it needs initiative.
Women's position will change in society, here girls go down to clean the streets alongside boys, we are all equals.
Now there are a lot of young people who look differently at the practice of bribery. I hope there will be no more bribery or 'wasta' to gain special treatment. Inspired, we started protests in our university to curb under the table bribery, people who pay extra for good grades. We started to ask for our rights at university. And everyone should do the same wherever they are. Every big thing consists of small particles, if you change those then the big things change too. "